04 Feb

Bonita Bay Real Estate News | February 2016

We've seen prices in Bonita Bay real estate edging upward on a consistent basis all year long. That has not stopped sales activity which remains at a steady clip. My advice to buyers is to move quickly if you find something you like or you may lose it. And to potential sellers, if you've been vacillating about selling, now may be the best time to consider listing your property.

As of February 1, 2016, there are 101 active listings in MLS in Bonita Bay; there are 39 single-family homes ranging in price from $395,000 to $4,995,000. The average list price is $1,711,093 and the average days on the market is 124. The combined days on the market is 151. In the carriage, mid-rise and villa market, there are 32 active listings in Bonita Bay. Prices range from $194,900 to $1,895,000. The average list price is $582,603. The average of days on the market is 75. The combined days on the market is 150. In the high-rise market, there are 30 active listings in Bonita Bay ranging in price from $769,000 to $3,250,000. The average list price is $1,586,117 and the average days on the market is 88. The combined days on the market is 114.

Your Bonita Bay REALTOR®,
Ed Gongola
SUMMARY OF BONITA BAY HOME SALES

If you are considering selling your Bonita Bay home, here are some statistics that may help you decide to place your home on the market:
CONDOs
Within the last 12 months, there were 105 sales with an average sales price of$705,140; these condos were on the market an average of 66 days; combineddays on the market is 132.

During the 12 months previous, there were 161 sales with an  average sales price of condominiums was $597,349; these homes were on the market for 111 days; combined days on the market is 173.
SINGLE-FAMILY
During the last 12 months, there were 58 sales with an average sales price of$1,200,440; these homes were on the market an average of 82 days; combined days on the market is 166.

During the 12 months previous, there were 78 sales with an average sales price of $1,111,005; these homes were on the market for an average of 89 days;combined days on the market is 194.

For a list of BONITA BAY homes
sold so far in 2016
, click
here

.
For a list of BONITA BAY homes that are
pending at the moment
, click
here

. 
Meet Ed Gongola and discover how he can help you with his concierge style of service when buying or selling your home.
ANOTHER RECORD YEAR FOR DOWNING-FRYE REALTY MEANS STRONG BUYER INTEREST IN 2016
"For the second year in a row, Downing-Frye agents closed over 4,000 transactional sides for the year," said Mike Hughes, vice president and general manager of Downing-Frye Realty. "This is very rare. This high level of sales activity indicates tremendous buyer interest in Southwest Florida."
Florida's housing market reported higher median prices, fewer days on the market and tightening inventory in December, according to the latest housing data released by Florida Realtors®.
Closed sales of single-family homes statewide totaled 23,056 last month, up 2.9 percent over the December 2014 figure. The statewide median sales price for single-family existing homes last month was $206,500, up 11.6 percent from the previous year. For townhouse-condo properties, the median sales price in December was $156,500, up 5 percent over the year-ago figure.
Total existing-home sales, which are completed transactions that include single-family homes, townhomes, condominiums and co-ops, ascended 14.7 percent to a seasonally adjusted annual rate of 5.46 million in December from 4.76 million in November. After last month's turnaround (the largest monthly increase ever recorded), sales are now 7.7 percent above a year ago. Lawrence Yun, the chief economist for the National Association of REALTORS®, says December's robust bounce back caps off the best year of existing sales (5.26 million) since 2006 (6.48 million). "While the carryover of November's delayed transactions into December contributed greatly to the sharp increase, the overall pace taken together indicates sales these last two months maintained the healthy level of activity seen in most of 2015," he said. "Additionally, the prospect of higher mortgage rates in coming months and warm November and December weather allowed more homes to close before the end of the year."
Bonita/Estero Real Estate: November 2014 vs. November 2015:
Overall number of active listings: 850 vs. 842
Overall closed sales: 198 vs. 188
Single-family median sale price: $388,901 vs. $340,000
Multi-family median sale price: $255,500 vs. $267,500
Dec. 2015 inventory: 5.5 months for single-family, 4.3 months for multi-family
Dec. 2015 percentage of list price for overall sales: 95.44 percent
Sources: The Bonita Springs-Estero Assoc. of REALTORS®, Naples Area Board of REALTORS®, National Assoc. of REALTORS®, Florida REALTORS®.
"Food for Thought" with Chef Richard at Bonita Bay Club
Check out Bonita Bay Club's Executive Chef Richard Brumm as he prepares Bonita Bay Club's signature "Bonita Bay Burger" on YouTube. Click the image below to view the video.
To view and subscribe to the Bonita Bay Club YouTube channel, click here.

Seaglass Plans for Enhancing Residents' Lifestyle
Future residents of the 26-floor, 120-unit Seaglass high-rise tower to be built by The Ronto Group within Bonita Bay will enjoy an award-winning lifestyle that is the result of initiatives undertaken by the Bonita Bay Club. After the purchase of the Club from the Bonita Bay Group in April, 2010, a new executive management team started a planning process for Vision 2015, a project focused on enhancing the clubhouse and the community's extensive golf operations. The goal was to offer more in the clubhouse without making it larger and to improve efficiency within the golf pro shop.
Recognizing the golf pro shop had the best views at the clubhouse, the decision was made to transform it into the 55th Hole, an approximately 3,500 square feet high-end casual bar. The design created a captivating indoor/outdoor venue. Nano doors open the inside to covered and open outdoor spaces and a patio that hosts the largest fire pit in Florida. Inside, the design affords views of a minimum of three televisions from every seat. Eight 60-inch television screens area incorporated into a structure suspended over a square Cheers-style bar in the center of the room. A 127-inch media wall with 18 LED panels can function as one screen or as four. The 55th Hole quickly became a favored place. Ninety-seven percent of the members visited the venue last year.
To better serve a golf operation that accommodates 12,000 rounds annually, a two-story, 15,000 square-feet golf pro shop was built adjacent to the clubhouse. The facility includes underground storage and charging for 260 carts and storage for 2,600 golf bags. Director of Golf E.J. McDonnell, PGA oversees a staff that includes 25 PGA Professionals. Ten of the PGA Professionals and seven Fitness Professionals are Titleist Performance Institute Certified, creating one of the largest programs in the country. An extensive instructional program includes private and group lessons, golf schools, and clinics on three dedicated practice areas. Members have access to the latest equipment and professional club-fitting services.
The entire kitchen and dining areas in the clubhouse were redone. An enormous and highly unique buffet that is the only one of its kind was incorporated in the dining space. Areas with solid surface cooling tops, a cooking area in the center of the nearly 40-feet long buffet station, and subsurface mounted heating elements that allow Sterno-free warming of chaffing dishes are included in the design.
As Vision 2015 unfolded, the Club embarked on a new initiative. Vision 2015 is focused on the community's sports areas and targeted improvements to the fitness and spa operations. There was a desire to replace a 10,000 square feet fitness and spa facility adjacent to the tennis complex. In January of 2014, the Club purchased a three-story building in the Promenade adjacent to Bonita Bay. The building has been transformed into a 60,000 square foot Lifestyle Center that includes a nearly 20,000 square foot Fitness Center and Fitness Café, and a 9,000 square foot spa and salon. The Lifestyle Center contributed to Bonita Bay being recognized as one of the ten healthiest clubs in America by Prevo Health Solutions. The America's Healthiest Clubs award is conveyed to private clubs focused on the cultivation of a healthy environment and lifestyle.
The first-floor lobby of the Lifestyle Center features a soaring two-story atrium. Visitors are greeted by a Concierge. The spa, full service salon, and a multi-purpose room are located on the first floor. Accessed by either an elevator or a floating staircase with glass side rails, the second floor is dedicated to the Fitness Center and Fitness Café. The Fitness Center is the premier Technogym facility in the United States. The Italian made, Technogym equipment includes cardiovascular, strength, functional fitness, and kinesis machines. The Technogym functional fitness equipment works on a 360-degree range of motion platform rather than a dedicated linear range of motion. In addition to the open spaces for the cardiovascular, strength, functional fitness, and kinesis machines, the Fitness Center includes dedicated rooms for group fitness, spin, Pilates, and Gyrotonics, as well as a dedicated golf training studio.
With more than 750 members who play tennis regularly, the Club also set out to enhance its tennis facilities. A rearrangement and slight expansion of the 18-court tennis complex was completed in December and included the addition of a large exhibition court and two oversize courts. In 2016, the 10,000 square feet building that formerly housed the fitness center and spa will be transformed into a tennis clubhouse with casual dining and an indoor/outdoor bar. The space will include a tennis pro shop, locker rooms, a stretching room, multi-function rooms, and a relaxing lobby area. Nano doors will open the entire space to the outdoors and the new exhibition court.
In summer 2017, the Club will begin work on an aquatic center contiguous with the tennis clubhouse. The tennis clubhouse bar area will extend onto the pool deck. The aquatic center design is in process. The intention is to create a visually stunning, functional area that is as comfortable on the front page of Architectural Digest as it would be on the cover of Club and Resort Business magazine. Dedicated areas for both children and adults will be included. The Club envisions the aquatic center holding a level of appeal that will make it an ideal setting not only for day-to-day recreation, but also for events.
            Source: Seaglass at Bonita Bay
Contact me to schedule your private visit to The Seaglass: 239.770.0561.
BONITA BAY EVENT
The 2016 Brooks/Bonita Bay Heart Walk
Saturday, February 6, 2016
~ The Walk Route will be 5K with a 1-Mile Route Available ~
Join this fundraiser event hosted by The Commons Club on
Feb. 6
to benefit The American Heart Association, the largest voluntary health organization working to prevent, treat and defeat heart disease, stroke and other cardiovascular diseases. Click the image on the right for more information.
BONITA BAY REAL ESTATE TIPS: The Importance of Intelligent Pricing

Figure 1: Percentage of Buyers by Asking Price
Determining the best asking price for your Bonita Bay home can be one of the most challenging aspects of selling a home. It is also one of the most important. If your home is listed at a price that is above market value, you will miss out on prospective buyers who would otherwise be prime candidates to purchase your home. If you list at a price that is below market value, you will ultimately sell for a price that is not the optimum value for your home. As Figure 1 illustrates, more buyers purchase their properties at market value than above market value. The percentage increases as the price falls even further below market value. Therefore, by pricing your property at market value, you expose it to a much greater percentage of prospective buyers. This increases your chances for a sale while ensuring a final sale price that properly reflects the market value of your home  .
Figure 2: Activity versus Timing
Another critical factor to keep in mind when pricing your Bonita Bay home is timing. A property attracts the most attention, excitement and interest from the real estate community and potential buyers when it is first listed on the market (see Figure 2). Improper pricing at the initial listing misses out on this peak interest period and may result in your prop erty languishing on the market. This may lead to a below market value sale price (see Figure 3), or, even worse, no sale at all. Therefore, your home has the highest chances for a fruitful sale when it is new on the market and the price is reasonably established.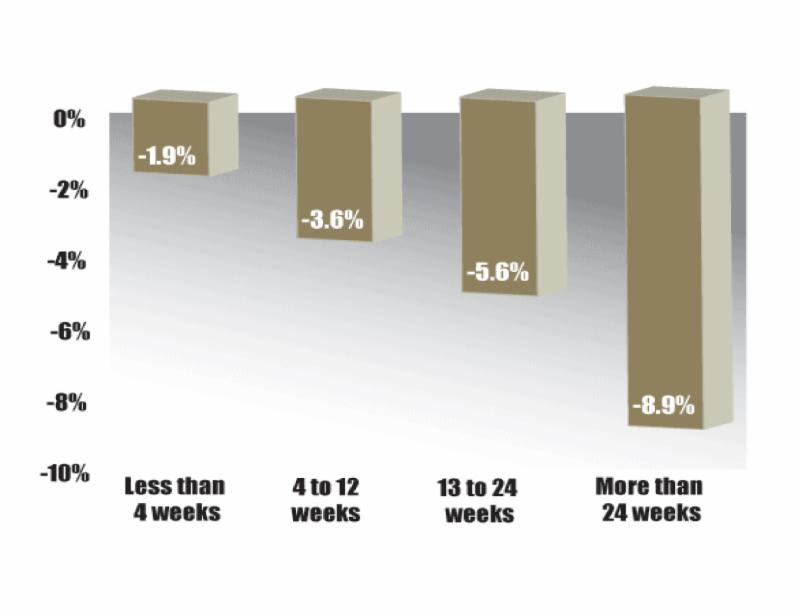 Figure 3: The Effect of Overpricing
I can give you up-to-date information on what is happening in the Bonita Bay real estate marketplace and the price, financing, terms and condition of competing properties. These are key factors in getting your property sold at the best price, quickly and with minimum hassle.